Celebrating Excellent IGCSE Results In AIS
IGCSE Results of AIS Students in 2022
Updated: 26 January 2023
The Australian International School is proud to announce the outstanding results of our Year 10 students, for the International General Certificate of Secondary Education (IGCSE) for 2022.
The below table summarises our % of each of the top grades in the IGCSE for 2022.

One area seldom spoken about by schools is the 'Value Added' score a school achieves for their IGCSE exam results. This represents the extra 'added value' a school gives its pupils over the duration of the course. Typically a school should at least get a '0'. This year we achieved on average +0.5 added grades per IGCSE subject. IGCSE students are taking more subjects than in the IB Diploma Program so this is an outstanding effort by all students and teachers involved.
Example: A student predicting a
C improved to B
B improved to A
A improved to A*
Top performers – the following 14 students received a minimum of 5A* graded or more:
Quinten Buwalda – 8
Aaron Kenmin Liaw  – 8
Kavya Mathur – 7
Arjun Mukherjee – 7
Kiana Seneviratne – 7
Issey Aiken – 7
Maya Matheson – 6
Nikita Paul – 6
Alysha Wee – 5
Kirsten Penney – 5
Ava Pollard – 5
Lucas Ramsay – 5
Matilda Ryan – 5
Eliza Tan – 5
IGCSE June 2022 Results
We also had 73 students participate in the examinations in June 2022. Students gained IGCSE grades in the following subjects: International Mathematics, Mandarin Chinese (Foreign Language), Chinese Second Language, Chinese First Language and French (Foreign Language). The results represent an excellent effort from all the students and teachers involved, so we would like to take this opportunity to wish everyone a huge congratulations!
Teacher: Lee Griffiths with our IGCSE Additional Mathematics students who celebrate their extraordinary results.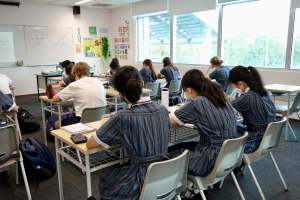 .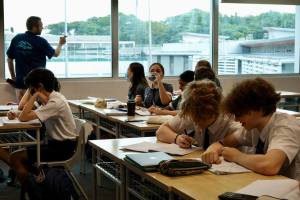 IGCSE Results Improvement in Mathematics Subject 
Our Deputy Head of Mathematics, Mr Lee Griffiths shared his thoughts on this year's students "The twenty-three students in the Additional Mathematics Class of 2022 should all be congratulated and commended for the incredible effort they have put in over the past year and a half. Not only have they been attending additional lessons before and after school, but they have also been juggling the content from two Mathematics IGCSEs simultaneously. They have taken on this workload with resilience and enthusiasm.
Every member of the class attained at least a B, and there were a staggering fifteen A*s and a huge proportion above 90%, with Jiayuan Mao scoring an incredible 97%. These students now look towards their Additional Mathematics Examination this coming November, and we wish them all the very best to attain more results that reflect their commitment and hard work."
Teachers: Grace Guan, Jo Gong, Paula Peng and Michelle McWilliams with our IGCSE language students. 
IGCSE Results Improvement in Chinese Foreign Language Subject 
We spoke to our IGCSE Chinese foreign language course leader, Paula Peng, who shared some insight into the difficulty level of the exam and the obstacles the students faced.
"IGCSE Chinese Foreign Language course is a challenging but rewarding learning experience for all of our students. At the beginning of the year some students felt overwhelmed by the rigour of the course due to the expanded knowledge required and greater breadth and depth; however, the students worked diligently and their efforts paid off when they received these excellent results.
The speaking exam format has had a big change from last year, which added more complexity. In order to make the teaching and learning easier to manage myself and two colleagues, Grace Guan and Jo Gong, worked to make comprehensive learning materials. At the beginning of the year we organised speaking practice sessions during recess by pairing up Year 10 students with Year 11 Chinese mother tongue students.
With mutual effort we have gained excellent results collectively, which hopefully builds up the confidence and morale of students in preparing for their other IGCSE Exams. Most importantly students have tried and delivered their best and understand the reason for being resilient.
We also thank the Head of LOTE, Mrs McWilliam, for her constant encouragement, full support and trust in us."
Congratulations once again to Year 10 on this outstanding achievement!