Australian International School turn 30
Australian International School (AIS) has come a long way from its humble beginnings with 32 students and 7 teachers at its inception in 1993 to being voted the "Best International School in Singapore", catering for students from 2 months to 18 years.
Our commitment to our students
The School started under the leadership of Miss Coral Dixon with 32 students and seven teachers. By the end of the first year, the school roll exceeded 200. In our 30 years, we have remained committed to ensuring our students flourish and live meaningful lives. We pride ourselves on our approach to teaching and learning for our students, offering a holistic education with a strong academic focus on what we call 'academic wellbeing. Our enviable education destination and multicultural environment are underpinned by our Australian values that truly make a difference. Every day we live by our three school values respect, opportunity and achievement.

School children outside the AIS Emerald Hill campus in 1995
30 years of growth
Over the 30 years, AIS has had three locations and growing facilities to keep up with constant growth. The school started on a small site at Mt Sophia before moving to Emerald Hill and lastly in 2002, the School secured land for a purpose-built campus at Lorong Chuan. After further growth in 2008, a Preschool and Junior School were added to accommodate the younger children, and in 2010 a new Senior wing with state-of-the-art Science and Technology facilities was added.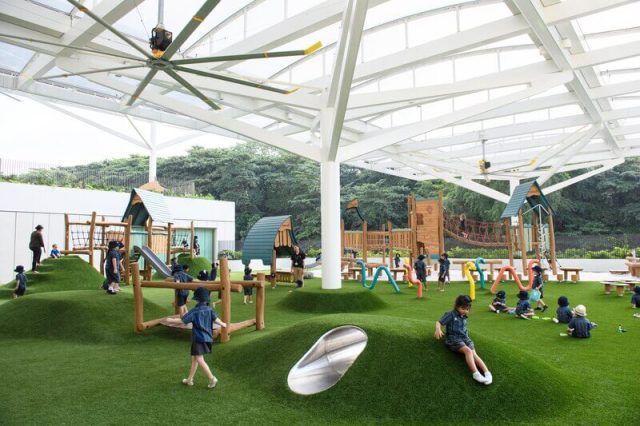 AIS constructed its Early Learning Village(ELV) in July 2017. The world-leading space was purpose-built for 18 months to 6-year-olds and inspired by the Reggio Emilia philosophy. The natural environment was designed to inspire curiosity and discovery in little explorers and shows AIS' commitment to investing in the school and the flexible learning offered. In 2021, our Early Learning Program was voted the best in Singapore.

Head of School Mr Simon Leslie & Amelia Woodward, who was the first student to achieve 45/45 points in the International Baccalaureate (IB) and went on to study for a Master of Science at Stamford University. 
Over 2,000 Year 12 graduates
AIS offers a diverse Australian curriculum as well as the International Baccalaureate (IB) with a strong emphasis on sports, the Arts, music and Outdoor Education, to ensure students leave school as well-rounded individuals. AIS has had the pleasure of graduating over 2,000 students from its Secondary program, with students achieving top marks in the IB and going on to study at leading universities around the world.

World-class facilities
AIS has one of the largest campuses in Singapore with world-class facilities, over 100 classrooms, including specialist teaching classrooms, 3 libraries, 1 theatre, 2 sports fields, 3 tennis courts, 2 swimming pools, and 3 gyms. Each corner of the school caters to the growing and developing child, with changing discovery spaces attached to every classroom which empower young learners to play to their strengths and interests. Their learning experience extends beyond the classroom, where they can choose from over 300 specialty Co-Curricular Activities such as gymnastics, ballet, sports, drama and language learning, among many others.
Learn More
If you wish to learn more about the school or arrange for a tour please contact our Admissions team here