Academic Wellbeing at AIS: How We Prioritise the Holistic Development of Our Students
As educators, we understand that a student's academic success is not solely determined by their grades or test scores. Rather, academic achievement is inextricably linked to a student's social, emotional, and psychological wellbeing. At the Australian International School (AIS), we recognise this correlation and prioritise the holistic development of our students through our Academic Wellbeing program. Our goal is to create an environment where our students can feel happy, healthy, safe, and can be at their best.
Our Wellbeing Team
Our Wellbeing Team is composed of highly qualified and experienced educators who provide a multi-faceted system of support and guidance for our students. This team includes Heads of Year, a Senior Leadership Team, an International Students Coordinator, a Boarding Guardian, a Head of Inclusion, Wellbeing Coordinators, Guidance Counsellors, a Positive Education Coordinator, a Community Service Coordinator, a Learning Enrichment Team, and our Health Care Unit.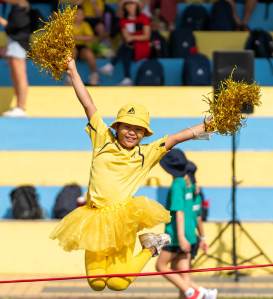 STRIVE
STRIVE is the name of our pastoral program that lies at the core of our Academic Wellbeing program. STRIVE stands for Strength, Thrive, Resilience, International Mindedness, Values, and Enjoyment. In this structured program, students cover a multitude of challenging and engaging topics and activities designed to broaden their horizons and equip them with skills, strategies, and knowledge relevant to their current and future experiences.
Core Tenets of the STRIVE Program
Strength
In the Strength module, we focus on building physical and emotional strength through activities such as sports and mindfulness exercises. By developing physical strength, students can feel confident and motivated, while mindfulness exercises help them develop emotional resilience and stress-management skills.
Thrive
The Thrive module focuses on the importance of social connections and relationships. In this module, we teach students how to foster positive relationships, develop effective communication skills, and resolve conflicts constructively.
Resilience
Resilience is a critical aspect of a student's emotional wellbeing. Through the Resilience module, we teach our students how to cope with challenges, manage stress and anxiety, and develop effective problem-solving skills.
International Mindedness
In today's globalised world, being open-minded and respectful of different cultures and perspectives is more important than ever. In the International Mindedness module, we aim to foster cultural awareness and develop students' intercultural competencies.
Values
Values such as honesty, integrity, and empathy are essential for building strong relationships and being a positive influence in the world. In the Values module, we encourage students to explore their own values and to understand how they can use these values to guide their decisions and actions.
Enjoyment
Enjoyment is an essential aspect of a student's overall wellbeing. Through the Enjoyment module, we encourage students to develop their passions, try new activities, and appreciate the world around them.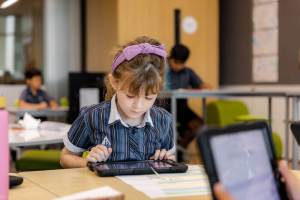 C.A.R.E.S & Academic Care
At AIS, we make the academic wellbeing of our students an absolute priority. One of the tools we use to support our holistic education is our C.A.R.E.S survey which is completed each term. The data derived from this survey is used to have informed conversations about students' academic wellbeing and provide the appropriate support and interventions where required. The C.A.R.E.S survey is designed to allow student voice to shine through about how they are feeling about schooling, relationships, and themselves.
Positive Education
As part of our commitment to supporting our community to thrive and lead fulfilling lives, the Australian International School places Academic Wellbeing at the core of everything we do. Our Positive Education approach is founded on the belief that we are constantly striving to become the best versions of ourselves, and in doing so, we reflect on Martin Seligman's PERMAH framework, which includes considering our emotions and experiences, the activities we engage in, our significant relationships, our health, our accomplishments, and our contributions to society.
We continuously develop our Positive Education programs to incorporate deliberate wellbeing practices that enable students to overcome life's challenges and flourish as individuals over the long term. Understanding how our cognitive, emotional, social, physical, and spiritual wellbeing is all interconnected is a fundamental aspect of our philosophy.
Extensive range of Co-Curricular Activities
At AIS, Co-Curricula Activities (CCAs) are an integral part of Academic Wellbeing. With over 300 different activities, students have the opportunity to explore and develop their interests beyond the classroom. The school offers a wide range of options, including school sports teams for basketball, netball, rugby, and many more, as well as competitive sports teams like football and cricket. There are also other after-school and lunchtime activities such as computer programming, Minecraft, lego building, and chess. External activities like rock climbing, golf, and surfing are also available.
In addition to the CCA program, AIS offers other activities that help students become their best selves, including an Outdoor Education Programme, community projects like beach cleaning, international charity initiatives such as Cambodia House Building and Schools for Schools in Nepal, the Duke of Edinburgh Awards, the Junior United Nations Assembly, and the Student Leadership Group. All of these activities contribute to the holistic development of students, promoting Academic Wellbeing and helping them achieve their full potential.
Learn More
The Australian International School (AIS) prioritises the holistic development of its students through its Academic Wellbeing program. The Wellbeing Team, which includes various educators, provides support and guidance to students. The STRIVE program, covers topics and activities to equip students with skills relevant to their current and future experiences. The C.A.R.E.S survey and Positive Education approach are used to support students' academic wellbeing. CCAs and other programs help students achieve their full potential. If you are interested in learning more about Academic Wellbeing and how AIS can support your child's holistic development, please reach out to the school here for more information.