AIS Nursing Team Perspective's On COVID-19
WRITTEN BY DEBRA HENNESSY, HEALTH SERVICES MANAGER, AUSTRALIAN INTERNATIONAL SCHOOL SINGAPORE
AIS Nursing Team is made up of nursing specialists from diverse disciplines ranging from community and child health through to major trauma and intensive care. We have 10 dedicated nurses across three key locations on the AIS campus: the Nursing Room in our Secondary school; the Main Health Centre in our Elementary School; and in the Early Learning Village Health Centre. This ensures that students across campus have easy access to nursing staff and health facilities.
During the circuit breaker our nurses have been busy producing a range of Health Education resources to keep our community safe and healthy including diet, mental health, sleep, hygiene and preparation for return to school. The below poster is an example of the resources created to educate students and families on Self Care Tips.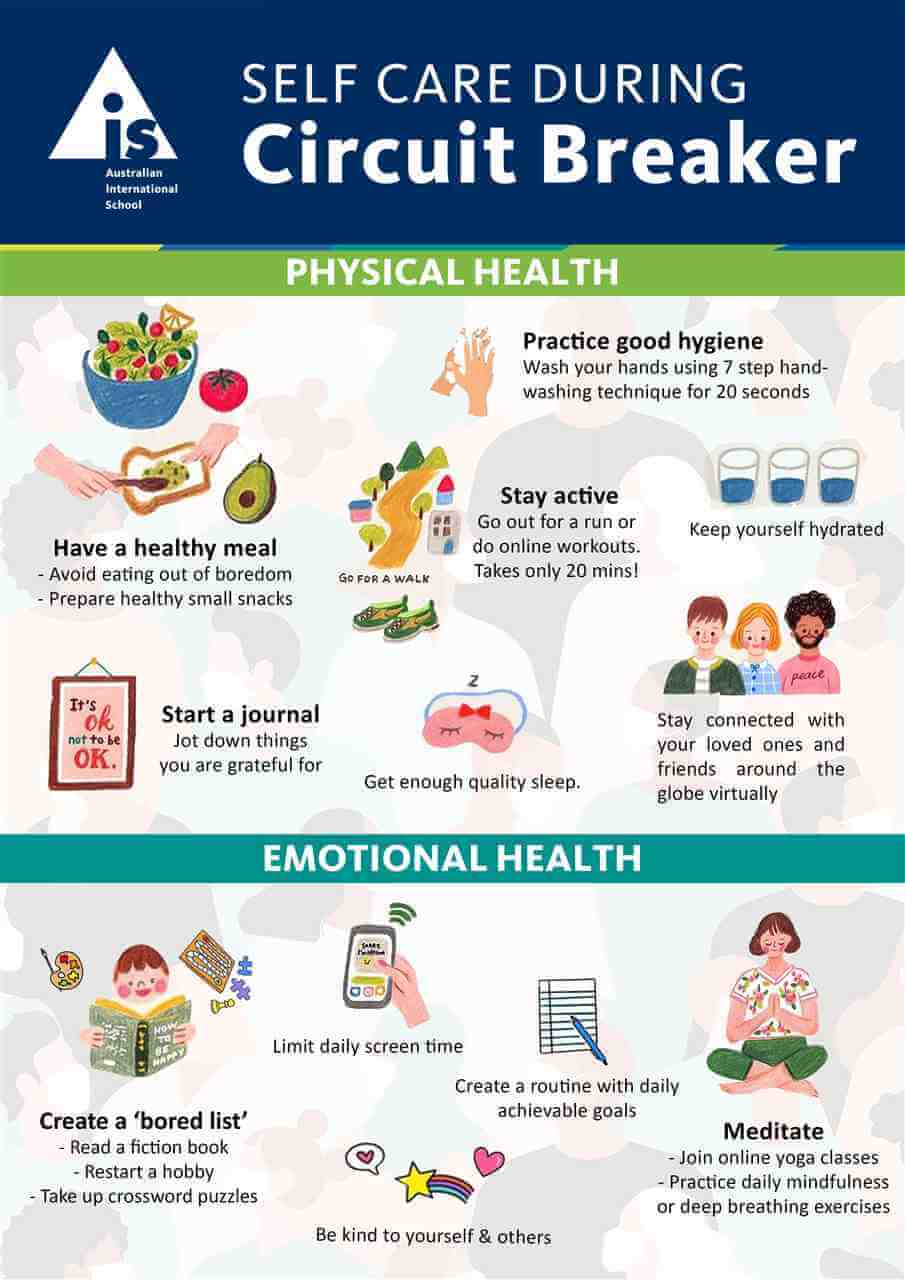 After we return to campus, the focus will be on maintaining the health and wellbeing of everyone. After a period of social isolation, it is expected that levels of immunity to common infections will be lowered and that when students start to mix with friends we may see an increase in illness. The nurses will track infectious illness closely and keep parents informed of any reported outbreaks and the signs and symptoms to be aware of. Parents are advised to monitor their children closely and to keep them home if their child feels unwell, has respiratory symptoms, unexplained rash or a temperature above 37.5 degrees C.
In school our emphasis will be on hand hygiene, use of masks and social distancing in an effort to protect health. Some of these skills can be practised at home with our younger students to prepare them for a safe return to study. Practise handwashing with them, demonstrate how they can cough into their elbow or use a tissue and how to safely dispose of it. Help them feel comfortable wearing a mask and the idea of social distancing when at play, which will be a huge challenge for some of our little ones! We encourage parents to find comfortable children's masks they are happy with and that do not cause irritation to your child's skin.
Other practical measures to keep children safe and healthy include checking that vaccinations are up to date and having your family doctor review existing medical conditions such as asthma. Ensuring your child has have plenty of sleep, exercise and a well-balanced diet will optimize their general health and help them fight off infection.
The AIS Nursing Team will be monitoring children at school to help prevent the spread of infection, which is particularly important at this time of understandable heightened anxiety around infectious illness.  If someone in your household is unwell, please consider keeping your child at home.
Later in the year, the AIS nurses will also be offering Health Screening including vision checks to targeted year groups at the school. If you do have any worries or would like to discuss any aspect of your child's health, please do not hesitate to contact the AIS Nursing Team or your own health care provider.