AIS Tertiary Education Fair 2023
At AIS, we understand that the primary purpose of a school is to prepare our students for a successful and fulfilling life beyond Year 12 and predominately our students continue with a tertiary pathway.
Last Friday, 23 March, we held the AIS Tertiary Education Fair. It has been over 4 years since our last university fair, so it was great to feel the buzz again in the small gym! Students and parents were able to speak with the representatives, understand the different courses and what universities require to apply.

AIS Secondary Students Year 9 – 12
Students who have a strong purpose for their schooling achieve their personal best, therefore all our students are encouraged to start investigating what future pathways are available to them. The fair is aimed to help our 11 & 12 students (and parents) understand what pathways are available to them. We also encourage students as early as Year 9 to attend so they know exactly what options are available and inspire them to dream big!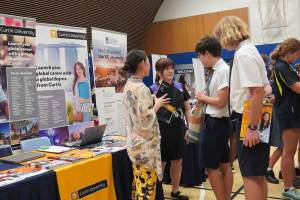 Leading universities from around the world
We had over 30 universities from 6 countries including Melbourne University (AUS), Sydney University (AUS), the University of California Berkeley (USA), the University of Cambridge (UK), and many more. Also, the Australian Global Skills Attraction Group was there promoting specific opportunities in Australia upon graduation as well as the Australian Defense Forces (ADF).

AIS Careers team
It is with the guidance and support of our career counsellors that truly wonderful career outcomes can be achieved.
A big thank you to James Scheib, our Head of Careers, and our Career Counsellor Anjelica Gkouris for putting this fair together!Learn More
If you wish to learn more about the school or arrange for a tour please contact our Admissions team here