AIS's 30th Anniversary: Reflecting on the Past, Crafting the Future!
The Australian International School in Singapore (AIS) recently concluded a year-long celebration to mark its 30th Anniversary, and what a magnificent journey it has been! The grand finale, the 30th Anniversary Ball, held at the Shangri-La Singapore, was a testament to three decades of excellence in education.
A Year of Celebration
Our journey began earlier in the year with the enchanting "Picnic Under the Stars," where families and friends came together to enjoy a delightful evening of stargazing and fun activities. This was followed by the "AISPA Fish & Chips" gathering, a feast that brought our school community closer. The "Shiok Fest" celebrated Singapore's diverse culinary heritage, tantalizing everyone's taste buds with a range of local delicacies.
These events set the stage for what would be an unforgettable journey, culminating in the annual highly anticipated "Global Festival." This event was a beautiful celebration of our students' diverse cultures and a testament to our commitment to fostering global citizenship.
Foundation Day Assemblies
As the school year progressed into Term 3, we held Early Years, Elementary, and Secondary Assemblies, each instilling a sense of pride and hope for the future. These assemblies were not just gatherings; they embodied our commitment to nurturing well-rounded individuals.
These sub-school Foundation Day Assemblies celebrated not only our storied history but also looked ahead with great anticipation for the next remarkable 30 years. Amidst heartfelt speeches and shared aspirations, these assemblies embodied the promise of tomorrow, where we continue to embrace our legacy, steer the present, and craft a brighter future.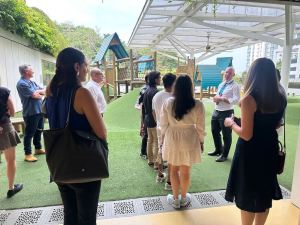 Reflecting on the Journey
We held an Alumni event took place on August 31st, bringing together over 20 attendees, including current and past students, teachers, and parents. They embarked on a tour of our school, a journey through time that revealed the transformative changes AIS has undergone over the years. Some alumni marvelled at buildings like the Early Learning Village, which didn't exist during their time at the school. It was a moment of reflection and revelation, highlighting our commitment to growth and progress.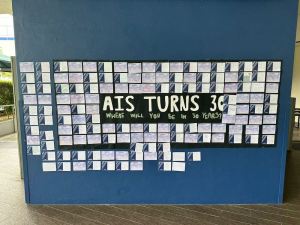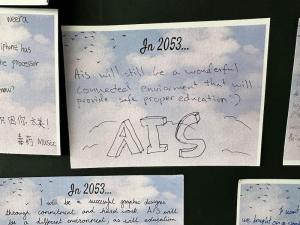 The Vision of Secondary School Students
During the celebration, our Secondary school students shared their visions for the next 30 years, offering inspiring glimpses of what lies ahead – a future shaped by innovation, compassion, and global awareness.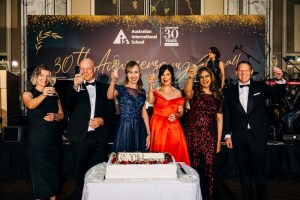 The 30th Anniversary Ball
The climax of our 30th-anniversary celebrations was undoubtedly the 30th Anniversary Ball at the Shangri-La Singapore. The night was an extravaganza of entertainment and camaraderie that extended well into the early hours.
The festivities commenced with a captivating performance by our school band, setting a harmonious tone for the evening. The stage then came alive with the dynamic and popular club band, Ruckus, who delivered a high-energy live performance that had everyone on their feet. DJ Shigeki kept the energy levels soaring throughout the night with an electrifying playlist.
The event drew a distinguished crowd of 310 guests, including notable dignitaries like His Excellency, Mr. Allaster Cox, Australian High Commissioner to Singapore, former Heads of School, Mr. Peter Bond and Dr. Eddie Groughan, former AISPA President, Ms. Ngaire Astridge, and current President, Ms. Megan Williams. The soirée was further enriched by the presence of strategic partners from ANZA, the Australian and New Zealand Chambers of Commerce.
30 Lucky Door Prizes
In true birthday fashion, we treated our guests to a fantastic array of 30 lucky door prizes during the ball. From grand getaways to exquisite treasures, these prizes added an extra layer of excitement to the festivities. The Grand Prize, a 5D4N full-board stay at the Club Med Kani resort in the Maldives, valued at over $12,000, was the highlight of the evening. Other prizes included a 3D2N stay at Casa Del Mar in Langkawi, a DJI Drone, a Royal Albatross Dinner Cruise, dining vouchers, and many more. It was a night filled with surprises and celebrations.
Thank you once again to our sponsors who have played an indispensable role in making our 30th Anniversary celebrations a resounding success.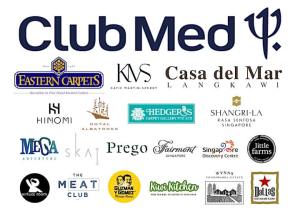 Charity Auction Success
Adding a philanthropic dimension to the festivities, a Charity Auction raised an impressive $7,603 for the Children's Aid Society. This highlighted our community's dedication to making a positive impact beyond the classroom. It was a heartwarming testament to our values of compassion and social responsibility.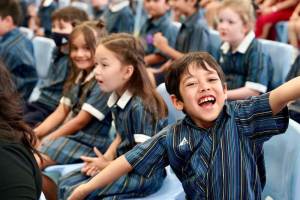 Anticipating the Future
As the Australian International School in Singapore celebrates 30 years of excellence, we look forward to a future filled with promise. Guided by a legacy of quality education and a steadfast commitment to nurturing the leaders of tomorrow, AIS is poised to continue its journey of growth and innovation.
Karrie Dietz, Head of School, expressed her gratitude, saying, "I would like to take this opportunity once again to extend our heartfelt gratitude to the students, parents, teachers, alumni, and community partners. Your unwavering dedication and tireless efforts have been the cornerstone of these events' success. The collective contributions of each and every one of you have been instrumental in our achievements. Whether in a leadership role or as educators, your daily commitment to our school profoundly enriches the lives and educational journeys of our students."
The 30th Anniversary celebrations have come to a close, but the spirit of AIS continues to shine brightly. With a legacy of excellence and a vision for the future, the Australian International School in Singapore remains a beacon of education and inspiration. If you are interested in learning more about AIS or how you can become part of our school's journey, please click here.